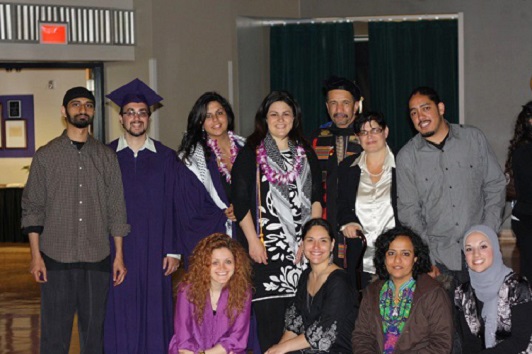 Teaching Palestine
Initiated by AMED Studies at San Francisco State University, Teaching Palestine builds on 2016-2017 Conversations on Palestine: Colonialism, Racism and Justice, held at and in collaboration with the Center for Place, Culture and Politics at CUNY Graduate Center; 2017 Teach-in on Palestine at the Left Forum in New York City; the 2017 Thematic Conversation at the Middle East Studies Association (MESA); the international conferences at Birzeit University and An-Najah National University in Palestine; the Caribbean Studies Association; and the World Congress of Middle East Studies in Seville, Spain in 2018.
Since the beginning of the project in 2018, Teaching Palestine has crossed the United States, Spain, Palestine, South Africa and Cuba, covering topics from colonialism and resistance to Black and Palestinian solidarity in the wake of George Floyd's murder this last year. The pandemic has reminded us that this engagement does not require a physical presence. In 2020, we have regularly engaged Palestinian activists and scholars from across the world in our virtual Teaching Palestine events. It is our hope that Teaching Palestine will interest our community and its allies to critically, collaboratively and systematically engage with Palestinian institutions in joint research projects, team-taught courses, faculty and student exchange, and joint movement building now as our perspectives on what constitutes participation and solidarity are changing and while Palestinian communities are being excluded from new Ethnic Studies curriculums. Environment degradation, lack of electricity and clean water, land confiscation, imprisonment, police and military brutality, and racial violence are not limited to the US, Haiti, Puerto Rico, South Africa, Vietnam, France or Mexico, nor are the constructions of colonial and racist gender and sexual regimes and the internalization of oppression. The resistance of our communities are also neither exceptional nor new. How we can convey this sense of urgency and afford ourselves a degree of optimism and the will to resist is a tall order. Teaching Palestine is one place where that would be possible.
Mapping Arab Diasporas - Justice Centered Activism
A collaborative research project that seeks to document oral histories and collect archival data from members of Arab diasporic communities who have immigrated to the United States since the late 19th century and early 20th century to explore 1) the extent of Arab and American political participation; 2) their interaction with their socio-political environment; and 3) their survival strategies.
This 5-year, multi-site and interdisciplinary project is a comparative study of multi-generational political participation of Arab and Muslim Americans in various geographic and social locations. The project also includes "the xenophobia that has escalated since September 11, 2001. In The most recent project in the series "Stories of Palestinian Diasporas", an oral history project compiling and preserving Palestinian activists' lived experiences in San Francisco in collaboration with the United Methodist Church. More about MAPAD project
Mapping Muslim Diasporas - Confronting Islamophobia
A collaborative multi-year research project that examines the relationship between the rise in Islamophobic incidents on college campuses and the size and rank of Arab and/or Muslim faculty members. The project involves field research on college campuses across the United States; an-ongoing colloquia and film series; an annual international conference (UC-Berkeley); the production of instructional materials (course design and teaching aid) and the publication of research results in the Islamophobia Studies Journalonline scholarly journal developed in collaboration with UC-Berkeley.
More about Islamophobia project
Gender and Sexuality in the Global South / Arab and Muslim Communities
A collaborative project started in 2002 as "Gender and Sexuality Studies in/of the Global South" to connect institutions in the Global North with scholars and research centers in four areas in the global South: the Middle East and Central Asia. More about the gender and sexuality project